Hardy Geraniums are one of the most used plants in many gardens, and the gardens in Shooter's Grove are no exception. They are happy in sun or part shade, and will cope with poor soil. In some lovely colourways from white to blue to magenta, often with a contrasting 'eye', these herbacious perennials are not to be confused with the 'bedding Geranium' or to use it's correct title, Pelargonium, which will need protection over winter.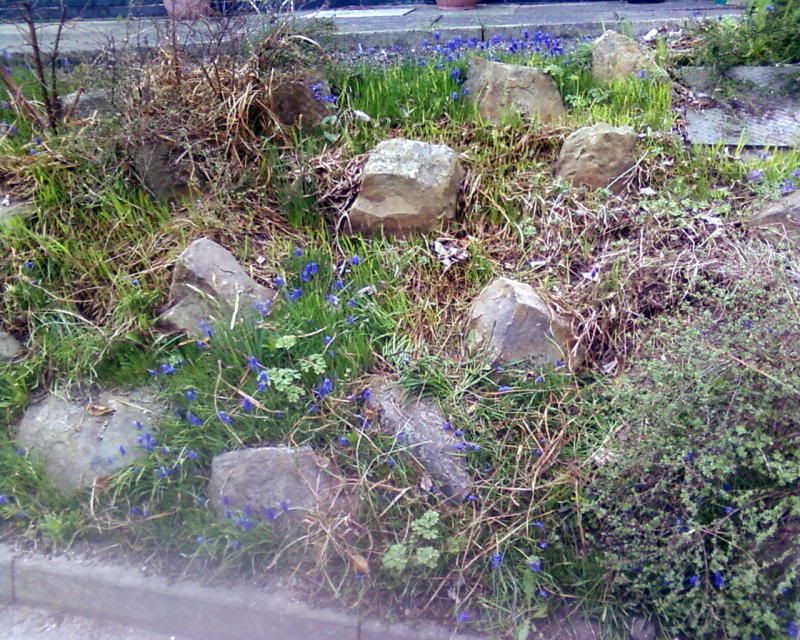 Today, we trimmed back last years untidy foliage in the gardens to expose lovely fresh new shoots of not only our Hardy Geraniums, but our large clumps of Crocosmias too.
We lifted part of the largest Hardy Geranuim, and divided this huge chunk into four pieces, each with some healthy roots and shoots. Two were replanted at the opposite end of the same bed, one in the bed by the offices, and the last in top bed by the carpark. The latter will hopefully drape theatrically through the railings.
The overgrown Jasmine by the offices also received a good chop, but for now, the topmost part is well out of reach for my short arms, and will require a ladder, and someone with a head for heights!
And lastly, the Cotoneaster in the Juniors had a bit of a trim to keep it within it's alloted space.
The daffodils are still blooming their socks off all around the school, and the Juniors flowerbed is awash with a sea of blue Muscari, or 'Grape Hyacinth'. What a sight to greet the staff and pupils next week when the summer term begins.